Delray Beach, Florida is one of the largest crowd pullers to the beautiful South Florida. The is vibrant beach town enables the tourists to have a memorable vacation right by the seaside. While discussing the key attractions in Delray Beach, the vibrant nightlife, Atlantic Avenue will deserve special attention. You will find innumerable bars and nightclubs in and around the area, that promise the maximum entertainment and amusement to for locals and visitors.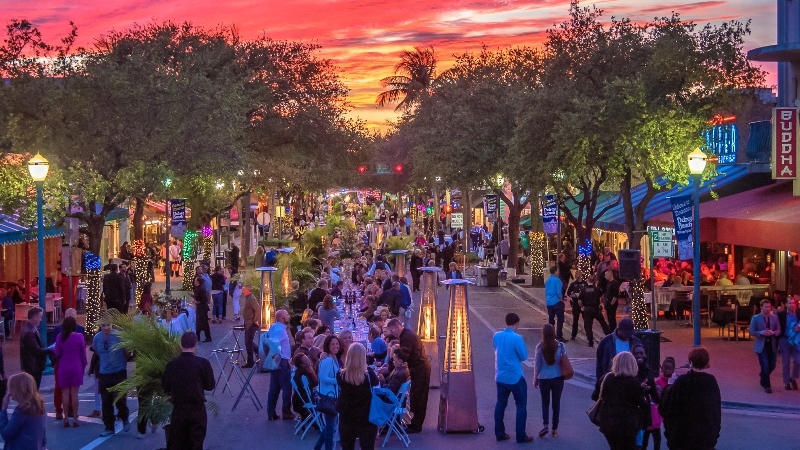 Top 5 Bars & Nightclubs in Delray Beach, FL
Honey
Address: 16 E Atlantic Ave, Delray Beach, FL 33444
Phone: (561) 270-7187
As reviewed by the flocks that have already paid a visit to this Delray Beach night club, Honey is one of the top destinations to enjoy the vibrant Delray Beach Nightlife. This nightclub is equipped with a full service bar, serving exquisite wines and craft alcohols. In addition, you get to taste some healthy foods. The operator has made arrangements for outdoor seating as well as parking. Though this night club offers the most ravishing services, you will require paying a reasonable cover on certain nights.
Grand Travern
Address: 710 Linton Blvd, Delray Beach, FL 33444
Phone: (561) 279-2779
This Michigan State themed tavern offers a highly comfortable, luxurious and soothing ambiance to all visitors hence, it has made its name in the list of the top nightclubs and bars in and around the Delray Beach area. Visitors love spending time at this destination as the owner ensures their safety, security, and satisfaction of the guest, and also provides guine services that makes you feel valued and respected. Great burger and fries!
The Apeiro Kitchen & Bar
Address: 14917 Lyons Rd, Delray Beach, FL 33446
Phone: (561) 501-4443
This bar & restaurant is the perfect destination to spend some quality time, enjoying the nightlife of Delray Beach. Equipped with all the modern amenities and facilities for the entertainment of the guests, this restaurant has got a reputation for serving tasty foods. Most importantly, the operator ensures the comfort of all guests. The bar plays live music that will enable you to relish musical entertainment, while you pamper your taste bud with exclusive foods, or you simply relax with a serving of some limited edition wines.
Holloway's Pub
Address: 502 Lucerne Avenue, Delray Beach, FL 33460
Phone: (561) 361-8445
The perfect destination to spend some quality time in the Delray Beach, along with your family, this is comprehensive night club with a well-equipped bar and a restaurant. Equipped with modern facilities and amenities, the nightclub justifies your decision to choose it ahead of others.
Vintage Tap
524 W Atlantic Ave Delray Beach, FL 33444
Phone: (561) 808-7702
A destination that welcomes you with live music and plenty of booze on tap, you will definitely love to spend some time here. Rock out or relax outside and have a smoke. The services at Vintage Tap get rated with very high notes, and prices are fair! Great times, great music, and even better people.
The Delray Beach Nightlife destinations discussed above promises you the highest entertainment when in town. These are only a few of the top spots in the area. If you want to know about my secret "local" nightclubs and bars, you'll have to stop by my Delray Beach hair salon and ask!