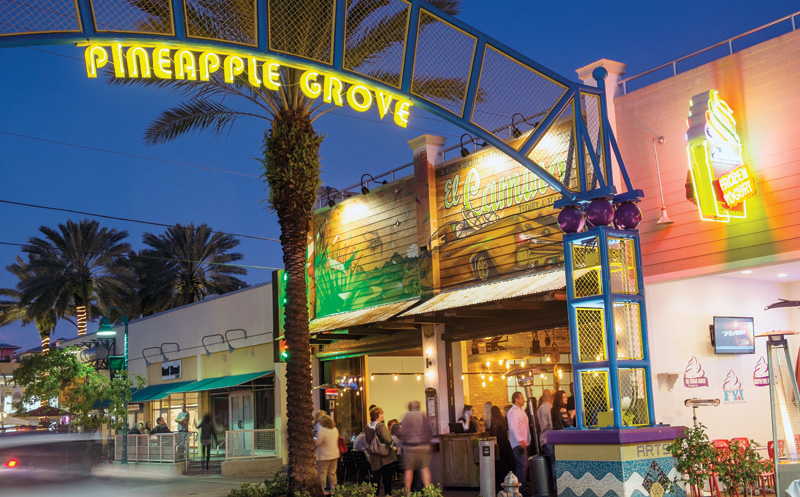 About Delray Beach
This seaside city in Palm Beach County in Florida has about two miles of public beachfront and is called Delray Beach. The popular beaches for tourists are the Delray Municipal Beach and the Atlantic Dunes, Park. Delray Beach is free from pollution, well maintained, and is classified as a Blue Wave Beach. During peak season, there are medical technicians and lifeguards for the visitor's safety. There is a crew that preserve the cleanliness and purity of the beaches.
Since Florida is prone to thunder and lightning storms, the beach conditions may vary throughout the year. It is because of these safety precautions that the beaches may be closed at times. To warn people of the conditions of the sea currents, colored flags are flown on the beaches because there is also a possible danger of jellyfish, sea lice, and predatory fish.
The location of Delray Beach makes it one of the greatest locations to hold an event in all of Southern Florida. While the beach itself is the main draw, there are some nearby attractions that will keep yourself and your guests entertained and enthused. Once your party is over, or before the party begins, you and your guests can visit the main strip. The strip is known as Atlantic Avenue and has a plethora of shops, boutiques, and markets that offer all sorts of souvenirs and goodies.
Food, Shopping, & Entertainment in Delray Beach
On top of shopping, there are also other attractions that are quite entertaining and affordable. One of the most popular is the nearby Wakodahatchee wetlands. Here you can walk around and see all types of wildlife including rare birds and even alligators. For guests that have never experienced animals of this kind, it can be quite a thrilling experience that will add greatly to the memory of your special occasion.
If you are looking to make your special occasion perfect, not only is location important but so are the activities and food that you provide. There is no doubt that any major event will take an incredible amount of planning on your part and there is often not enough time to do everything by yourself. This is precisely why hiring a professional and reliable caterer can be a staggering advantage for any occasion. When it comes to Delray Beach, the catering services offered in the area are another reason why the location is so ideal.
Not only does Delray Beach provide the perfect backdrop for your event, but you can find excellent services in the surrounding area that will help the special day go off without a hitch. While the natural beauty is your main draw to the area, an event without food and great service will not be a successful one. Take advantage of Delray Beach catering, and you can make an already special day completely unforgettable. You provide the people and the fun and let an experienced, reliable caterer take care of the food.
Don't forget to pamper yourself and your guests while your in town. With loads of spas, salons, and blowdry bars there are so many ways that you can leave feeling refreshed. If you want the best Delray Beach beauty salon experience, contact me directly!
At the end of the event, you want your guests to leave with unforgettable memories. Now you can focus on doing so without having to worry about the food. The pros will take care of everything for you.
About Downtown Delray Beach
The Downtown area of Delray Beach has many retail stores, sports facilities, and recreation centers. Residential areas can also be found in Downtown Delray. The Delray Beach Tennis Center has hosted many international tennis competitions like Fed Cup and Davis Cup matches. Atlantic Avenue is a perfect place for shopping and dining. Museums and galleries dot the area, and are good places for people who want to get in touch with the good life. A famous museum in Atlantic Avenue is the Morikami Museum. The American Orchid Society and the Morikami Gardens attract thousands of visitors every year.
This beautiful village by the sea is definitely a place to visit if you are a fan of culture, the surf, sand, sun, and the city all rolled in one.